The Original Hot Chocolate BevBomb
Hand-crafted in small batches
The Original Hot Chocolate BevBomb is the sweetest surprise this season!
The Original Hot Chocolate BevBomb is made with real chocolate, not cocoa, and filled with delicious mini marshmallows! Simply drop a BevBomb into a hot cup of milk or coffee (watch for the marshmallow explosion!) and enjoy the most delicious, rich cup of hot chocolate or mocha you have ever tasted!
We are the creators of the Original BevBomb- and as always, we are pushing our innovation. Our BevBombs are the only All Natural, Kosher (made with Delicious Gelatin-Free Marshmallows), BevBombs- and of course, made with only 100% Real Chocolate!
Always made with real chocolate, our ensemble of chocolatiers hand-craft each piece in small batches to compose a sweet harmony of flavors.
At A'cappella, we let the rhythm of our imagination guide the creation of our confections!
Each box contains 4 Individually wrapped BevBombs.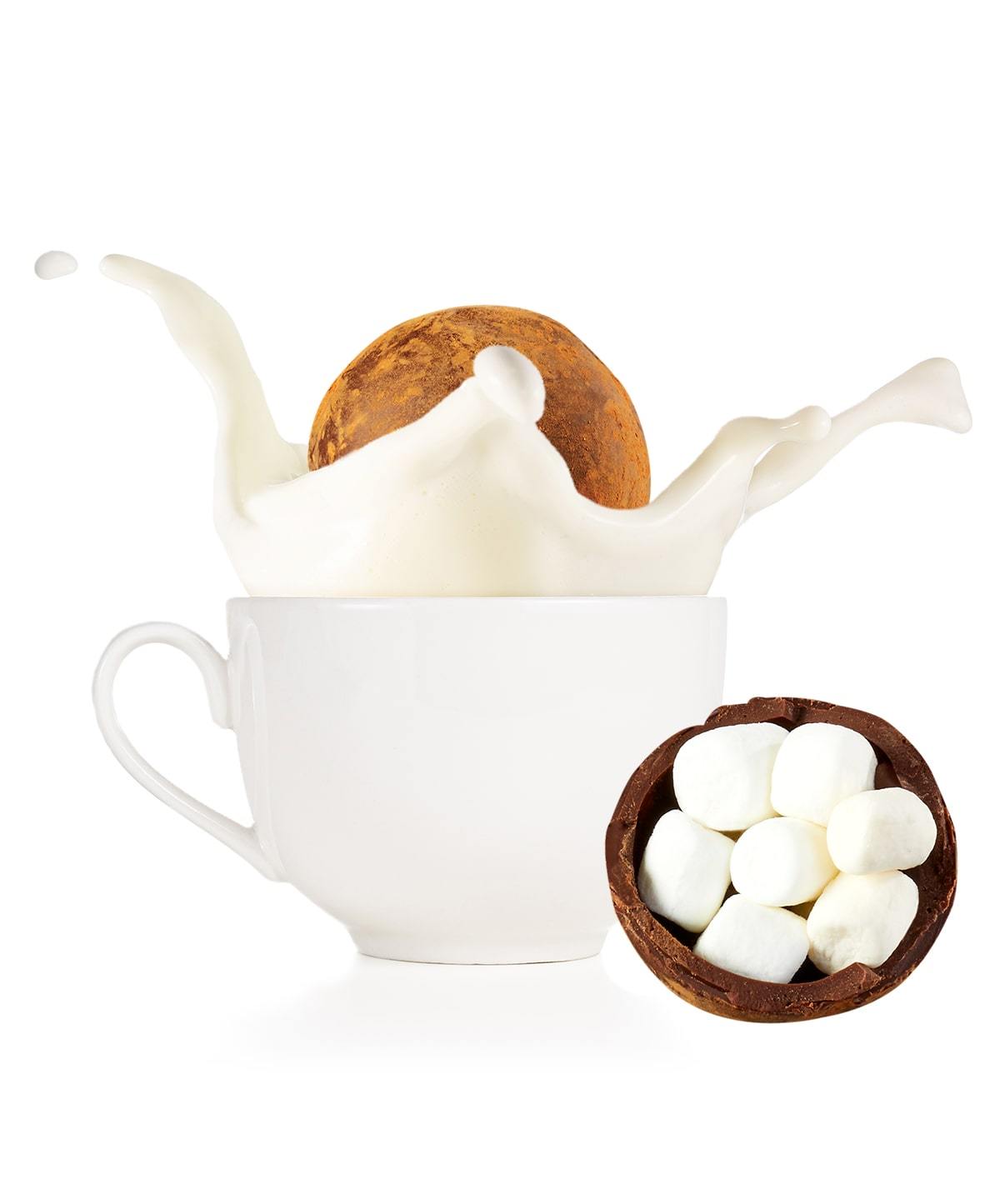 Nutrition Facts
Serving Size 1 piece (36g)
Amount per Serving: 180 Calories
Includes 17g Added Sugars
* The % Daily Value tells you how much a nutrient in a serving of food contributes to a daily diet. 2,000 calories a day is used for general nutrition advice.
Ingredients
Dark Chocolate (cocoa liquor, sugar, cocoa butter, soy/sunflower lecithin, vanilla extract), Mini Marshmallows (Tapioca Syrup, Cane Sugar, Filtered Water, Tapioca Starch, Carrageenan, Soy Protein, Natural Vanilla Flavor), Milk Chocolate (sugar, cocoa butter, whole milk powder, cocoa liquor, soy/sunflower lecithin, vanilla extract), Cocoa Powder
Variations in nutrition information displayed here may occur due to product reformulations and updates in NLEA requirements. Please review your product package before consuming and feel free to contact us for more details.